FIRING UP
BREAKFAST • LUNCH • EVENING •
WOOD FIRED PIZZA OVEN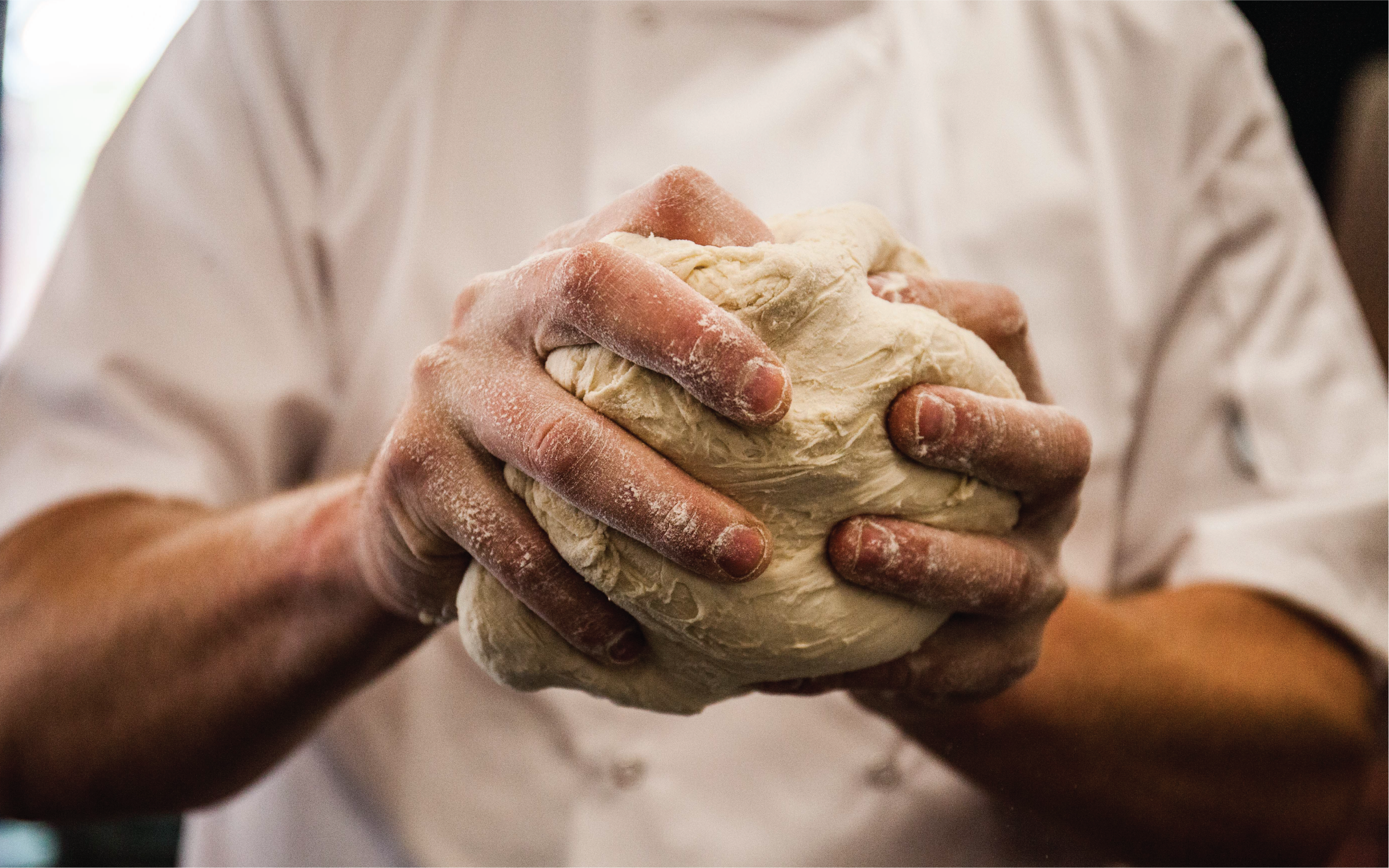 With sourdough from Pullins Bakery, pastries made on site and home-made jam, we've got the perfect spot to start the day. Our coffee hasn't travelled far either – from Bristol-based roasters Wogan – and is some of the best in the West Country. It doesn't need to be breakfast time to try our coffee of course, we'll serve it all day along with a range of mouth watering cakes.
Taking the best of Italian and British ingredients and inspired by the creativity of our pizza chef Ben, our menu is a feast of new experiences for your taste buds. These will be served alongside a range of salads, sandwiches, paninis, baguettes and other light bites.
Made in full view of diners in our wood-fired oven, ours are no ordinary pizzas and we can promise you'll find flavours not available anywhere else. In the evening they will be the star of the show, along with a range of desserts all crafted on site by our expert team.
Our pizza is hand-made using local suppliers and seasonal produce. Using mozzarella specially made for us, and Italian-style double zero flour, we lay the base for our toppings which are rich in new and exciting flavours.

Please note that in order to help us reduce wastage gluten-free pizzas are available on a 24hr pre-order basis.
We believe that one of the keys to making great tasting food is to use the freshest ingredients possible. With that in mind we endeavour to use suppliers from as close as possible to B Block. Our fruit and vegetables come from the Bristol Fruit and Veg Market, and our meat from WJ Harris , a family butchers in Barton Hill in the east of the city. Our organic flour comes from Shipton Mill in Tetbury, Gloucestershire.
Our pizzas are a blend of Italian ingredients with British expertise. Our cheese and cured meats come from Nanona in Clevedon, who offer us a direct supply line to some of the best producers in Italy.
Whatever we put on your plate is either made on site or supplied direct to us as fresh as it can be.
The Chocolate Quarter can be found on Trajectus Way, off Somerdale Road close to the centre of Keynsham. The town's rail station is a five-minute walk from the restaurant with regular services to Bristol Temple Meads (six minutes) and Bath Spa (10 minutes).
B Block Cafe
Brookmead
The Chocolate Quarter
Trajectus Way
Keynsham
Bristol
BS31 2GJ
Call us on
0117 363 7119
or e-mail the team at
info@b-blockpizza.co.uk
We'll be updating our social media channels regularly to let you know what's on the menu so follow us on Facebook, Twitter and Instagram - @bblockpizza
Parking is free to all visitors to The Chocolate Quarter for up to two hours in the car park at the rear of the building, which is monitored by an Automatic Number Plate Recognition system.
With a busy nursing care home, restaurant, pizzeria and leisure facilities on site, it was necessary to limit free parking to a maximum of two hours to encourage a regular turnover of vehicles visiting The Chocolate Quarter.
Visitors to The Chocolate Quarter should ensure that they only park in the purple bays, as the red ones are for visitors to the GP surgery and the yellow bays are for residents only.
Signage around the site indicates what each colour bay refers to and the maximum stay allowed.
Monday: 8.00am- 6.00pm
Tuesday: 8.00am – 9.00pm
Wednesday: 8.00am – 9.00pm
Thursday: 8.00am – 9.00pm
Friday: 8.00am – 9.30pm
Saturday: 9.00am – 9.30pm
Sunday: 9.00am – 4.00pm
Please Note: Last food orders will be taken 30 minutes before closing.

Please find below details of our upcoming film screenings, where you can enjoy pizza and a drink for £15 per person and then gain free access to our onsite cinema in The Chocolate Quarter! To book, please e-mail info@b-blockpizza.co.uk